Natto offers a unique probiotic boost to our immune system. The Japanese have consumed fermented soy for centuries and continue to this day. Is it any wonder they continue to top the list of the world's healthiest countries?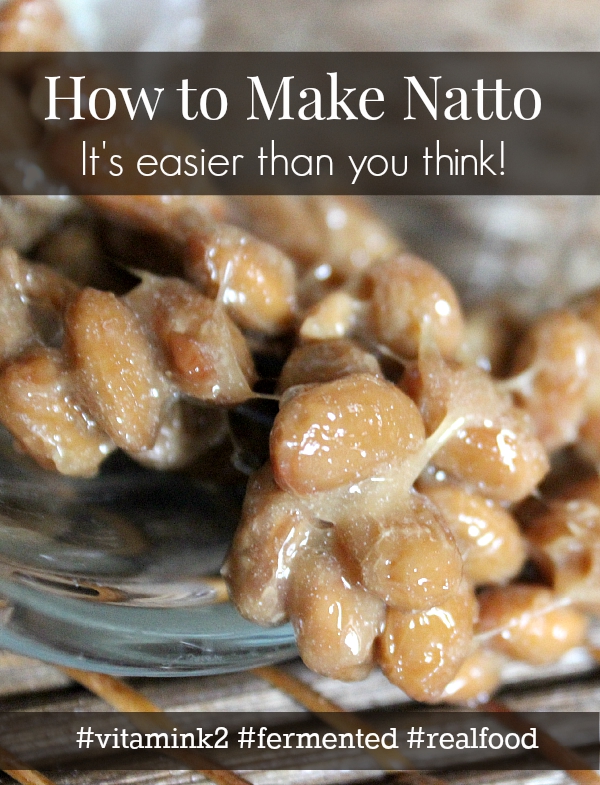 Wondering about the toxic reputation of soy? In its natural state, soy contains anti-nutrients that are toxic to humans. The fermentation process neutralizes these, transforming the soy into a beneficial and immunity-boosting food.
Are you concerned about the goitrogens present in soy? Goitrogens, thyroid inhibitors, are not neutralized during fermentation. In fact, they are increased. Some suggest foods high in iodine while consuming natto. Others advise fermenting alternate beans such as navy beans.  Others recommend keeping your natto consumption to a minimum. Since 40 grams of natto contains 500% of the RDA for Vitamin K2, it makes sense to limit natto consumption and keep it as a condiment.
Vitamin K2 is one of the outstanding benefits of natto.  See Vitamin K2 and Natto.
Ready to try it?  If you've never tasted natto, be prepared for a bit of a challenge. Natto is an acquired taste.  The good news is you can learn to enjoy natto. I no longer grimace when I eat it. My body craves it.
You can find natto in the freezer section of many Asian grocers. Most come with flavor packets with undesirable additives. Consider tossing the packets and flavoring with your natural condiment or dressing.
I trust and enjoy the brand megumiNATTO available for purchase online. Find them here.
It's far more cost effective to make it yourself. Here is the method that works for me.
Supplies:
1. Organic (or certified GMO free) soybeans. Other beans, such as navy beans, may be substituted, but the soybean offers unique nutritive benefits. Sources of organic soybeans include:
2. Starter culture. Store-bought natto may be used to inoculate the soybeans, or you can purchase a starter from these websites.
3. Pressure Cooker – optional.  The pressure cooker hastens the cooking time for the soybeans.
Natto starter costs less than $20 and will last for many batches. Organic soybeans cost approximately $4.00 per batch. This means natto costs pennies per serving, offering an inexpensive, power-packed boost to your immune system.

Andrea Fabry
Natto
Natto involves a lengthy process of soaking, cooking and fermenting the beans. The actual hands-on time is approximately 1 hour.
Ingredients
2 cups organic soybeans
6 cups filtered water for soaking
starter
Instructions
Soak beans in filtered water overnight. (15-20 hours.)
Strain beans.
Place beans in large pot. (Use stainless steel, enameled or other non-reactive pot.)
Fill with water and cook beans till soft, approximately 9 hours. The beans should be as soft as your earlobe. A pressure cooker hastens the process.
Strain the beans and place in sterilized pot. From this point on everything must remain clean. If a bean drops on the counter, discard it.
Dissolve spores in filtered water, as directed on the package. The starter from GEM cultures comes with a small spoon. A little goes a long way when inoculating the beans.
Pour the natto spore solution over warm beans.You may also inoculate using natto from a previous batch.
Stir the mixture with sterile spoon. Place beans in shallow containers.
Keep beans in a thin layer approximately 3 beans high.
Place a clean moistened cheese cloth over the top of the containers and place a lid over the cheese cloth. The trick is to maintain moisture but avoid excess liquid. I have found that a thin sheet of Cling Wrap works well to retain moisture. You may keep a bowl of water nearby to maintain the moisture in the air while fermenting.
Place the covered containers in the oven, dehydrator or warmer for 20-24 hours. Maintain a temperature of 100 degrees F. (38 degrees C.) I use my dehydrator; others use heating pads, or heat lamps. Your oven with a pilot light may work fine.
You will see a white film surrounding the beans. This is a positive sign that the fermentation has succeeded.
Remove cover and stir. You should see numerous strings - another sign that you have created a microbial powerhouse.
Store in fridge until ready to consume. The natto will remain fresh for at least two weeks. If you're happy with your batch, be sure to save 1/2 cup to inoculate your next batch.
Store excess in freezer.
http://it-takes-time.com/2014/03/12/how-to-make-natto/
Related Posts
74

Natto is a traditional Japanese food made from soybeans fermented with the microbe Bacillus subtilis. It is one of Japan's most noteworthy health foods. Did you know the fermentation process generates high levels of vitamin K2?  Is Soy Bad For Me? Lots of controversy surrounds the issue of soy in…

51

Did you know you can ferment the popular spice turmeric, making it even more potent? Can adding turmeric spice to tonight's dinner give you all these benefits? Perhaps not. If a substance is poorly absorbed, has a high rate of metabolism, or is rapidly eliminated it is considered a substance…

36

With three ingredients you can create this nutritional boost! Learn how to make fermented turmeric! [mpprecipe-recipe:143] If you are hesitant to use sugar, consider using salt and a starter. Place several coarsely chopped turmeric roots, in a quart-size glass jar. Add two teaspoons sea salt and 1/4 cup starter. Starter…