Are you recovering from a toxic mold exposure? Wondering about treatment options?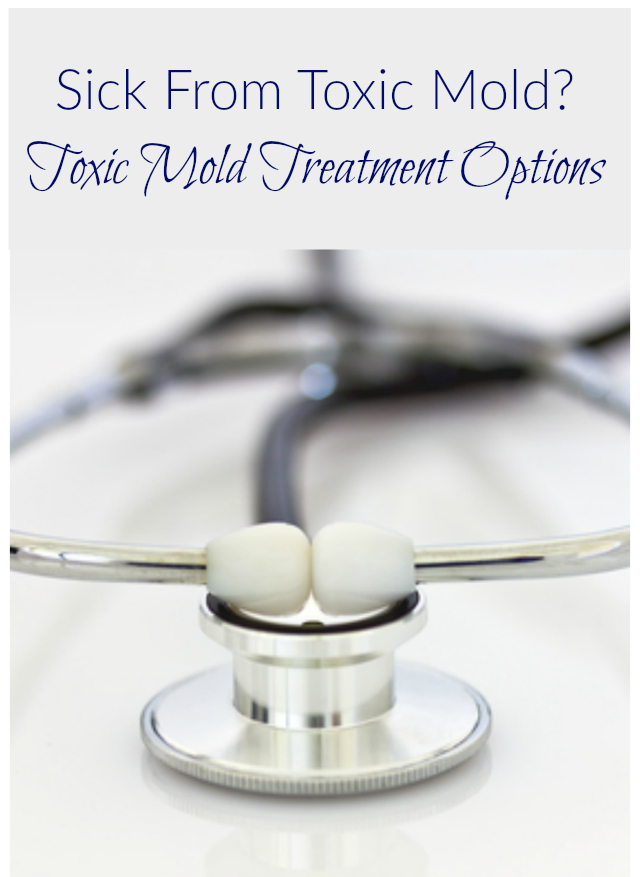 The following is an overview designed to stimulate further research rather than suggest a particular protocol. Genetics, finances, circumstances, and individual physical needs play a role in determining the best choice.
Toxic Mold Treatment Options
Drug Options
Cholestyramine (CSM)
CSM is the most commonly prescribed drug for mold exposure. CSM is a bile acid sequestrant, which binds bile in the gastrointestinal tract to prevent its reabsorption. It also works as a mycotoxin binding agent. CSM can be compounded to contain no sugar.
It is important to take CSM two hours before or after any nutritional supplements, as it will bind these as well.
(Welchol is a similar binding agent and may be prescribed instead of CSM.)
* Natural binding agents are suggested below.
Antifungal drugs. These include the plyenes, the triazoles and imidazoles, allylamines and more. Nystatin is an example of an antifungal drug. Antifungal drugs may be taken in nasal spray form.
Low-dose Naltrexone. Naltrexone is an opioid receptor, antagonist. Low-dose Naltrexone (LDN) has been shown to be effective in treating immunologically related disorders.
To find a doctor, check the list of physicians on the American Academy of Environmental Medicine website. The level of knowledge regarding toxic mold varies. Other resources include the American Board of Environmental Medicine, which is currently working on an online list of physicians, and the Institute for Functional Medicine.
Natural Options (often integrated with conventional medical therapies)
Natural binding agents include the following:
Garlic, oil of oregano, pau d'arco, olive leaf extract, caprylic acid (found in coconuts), barberry, and grapefruit seed extract are some of the natural antifungals.
Dr. Grace Ziem's Chemical Injury website contains a nutritional and environmental protocol for chemical injury.
Glutathione is your body's master antioxidant. Glutathione therapy is often vital to recovery. Coffee enemas can help boost glutathione levels. See Health Benefits of Coffee Enemas.
Skin Remedies
Rashes often appear during mold exposure, as well as during the detox process. (See some of our rashes in the Detox Rashes.
Ketoconazole cream is a topical antifungal cream. Other skin remedies include tea tree oil, coconut oil, grapeseed oil, and grapefruit seed extract (diluted).
Charcoal soap can be used as a detox agent. It can be combined with ketoconazole shampoo lather. I created a chemical-free charcoal soap specifically for mold detox. Skin Deep charcoal soap can be found at Just So Natural Products.
Epsom salt baths are helpful. For more detox bath alternatives, see this list and the article Healing Baths.
Antifungal Diet
One goal of an antifungal diet is to starve the fungus, thereby halting the cycle that often occurs. Sugars and processed carbohydrates feed the fungus. Natural health expert Dr. Joseph Mercola discusses the benefits of an antifungal diet in his article titled Forget Antibiotics, Steroids, and Medication – Starve This Toxin Out of Your Body.
For a helpful comparison of various antifungal diets, including a downloadable chart, see the post 5 Gut Restoration Diets Compared.
Brain Retraining
The entire body is impacted by mold exposure. Digestive tracts are hit hard, and so are endocrine systems. The brain is invariably involved. Brain retraining programs often play a part in recovery.
Brain retraining options include:
***I write more about my brain retraining experience in the post How and Why I Learned to Breathe.
Alternative Health Options
A wide variety of alternative health options exist. Practitioners may not be familiar with the specifics of mold exposure but can address the need to detox.
These are a few of the numerous options available: orthospinology, (a chiropractic option), energy medicine, acupuncture, IV therapies, chelation therapies, far infrared sauna, ionic foot baths, and much, much more.
Hyperbaric oxygen treatment has been shown to improve the brain function of mold exposed individuals.  (See Improvement of Attention Span and Reaction Time with Hyperbaric Oxygen Treatment in Patients with Toxic Injury Due to Mold Exposure.)
Induced sweating through exercise and/or sauna offers unique benefits, according to Dr. Janette Hope. In her paper "A Review of the Mechanism of Injury and Treatment Approaches for Illness Resulting from Exposure to Water-Damaged Buildings, Mold, and Mycotoxins," Dr. Hope notes that "induced sweating will likely reduce the total overall body burden of toxins and support recovery in persons made ill from exposure to water-damaged buildings."
Electromagnetic Radiation Awareness
Mold-exposed individuals will do well to reduce exposure to electromagnetic fields. The stress of everyday exposures can impede the recovery process and exacerbate symptoms. Consider reducing your use of wireless radiation in the form of cell phones and Wi-Fi. If possible, hardwire your computer and return to a landline for phone communication. Pay particular attention to nighttime exposures and keep all devices away from your body. Turn off all routers at night or when not in use. See Sleep, Melatonin, and Electronic Devices.
---
Online Support:
---
Important Notes
 A healing crisis can occur as the detox from mold exposure begins. This is a "Herx Reaction", an increase in the symptoms caused by toxic circulation and inflammation. It is, therefore, not unusual to get worse before getting better. (See Detoxing for Dummies.)
Nursing mothers need to exercise caution when detoxing. Consult with a qualified medical professional and remember that less can be more when it comes to detox.
If you have left a mold environment, you have already begun treatment. It's easy to feel a sense of urgency when sorting through the various options. Mold avoidance is an excellent step.
As you weigh your options, consider spending time outdoors. If an indoor environment can make us sick, then prolonged periods of outdoor time can surely help. Many mold-injured individuals experience improved health with camping and reconnecting with nature. (See How and Why I Learned to Spend Time Outdoors.)
If you are overwhelmed as you consider all of these options, remember that recovery takes time. Trust your instincts. Never underestimate the value of the simple process of deep breathing. Begin with mold avoidance and diet as you consider the next step on your journey to recovery.
Related Posts