Looking to add a bit of nature to your indoor environment? Are you interested in DIY natural decor? You'll love the manzanita tree!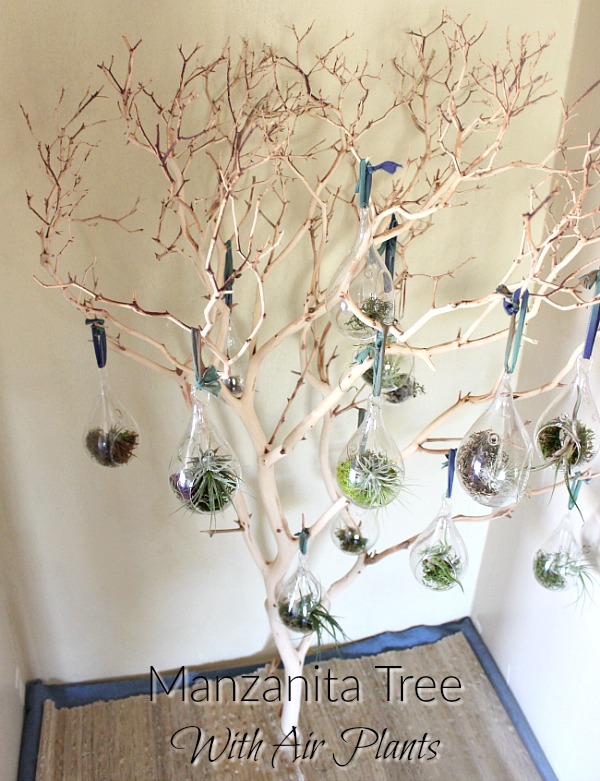 Manzanita trees are characterized by smooth orange or red bark and stiff, twisting branches. The term manzanita is derived from the Spanish word manzana (apple), since manzanitas offer silvery-green berries in spring and summer.
Manzanita trees and branches are readily available online. You can buy a tree with a base, or gather branches into a vase and display as a tree. Sources of manzanitas include:
Options abound when decorating your manzanita tree. Add some simple white lights for a fun Christmas display, or hang votive candles, rustic bells, or beads for an inviting year-round presentation. My manzanita tree is decorated with glass plant terrarium bulbs filled with moss and air plants.
DIY Natural Decor – Manzanita Tree
Supplies:
1 manzanita tree or group of manzanita tree branches (sources cited above)
6-10 terrarium bulbs (like these)
Ribbon, yarn, or jute string
1 package moss (like this)
6-10 air plants (also called Tillandsia and may be found here)
Assembly:
1. Place tree in desired location.
2. Loop ribbon or string to each bulb.
3. Place moss inside.
4. Add air plant.

5. Hang on the manzanita tree as desired.
How to care for air plants
Water air plants weekly, though 2-3 times each week is even better. Soak them for 2 hours every 3 weeks. I mist them daily with a spray bottle and do a long soak every 2 weeks. Air plants should dry within 4 hours after a long soak. Fertilizing is not necessary but can help with blooming and reproduction. (Fertilizer may be found here.)
Related Posts