Homemade powdered laundry soap works great with warm and hot loads of laundry, but what about cold loads? You have two options. Blend 1 tablespoon of powder with warm water and dissolve ahead of time, or make this DIY liquid laundry detergent recipe for use in all temperatures. (Find my powdered recipe here.)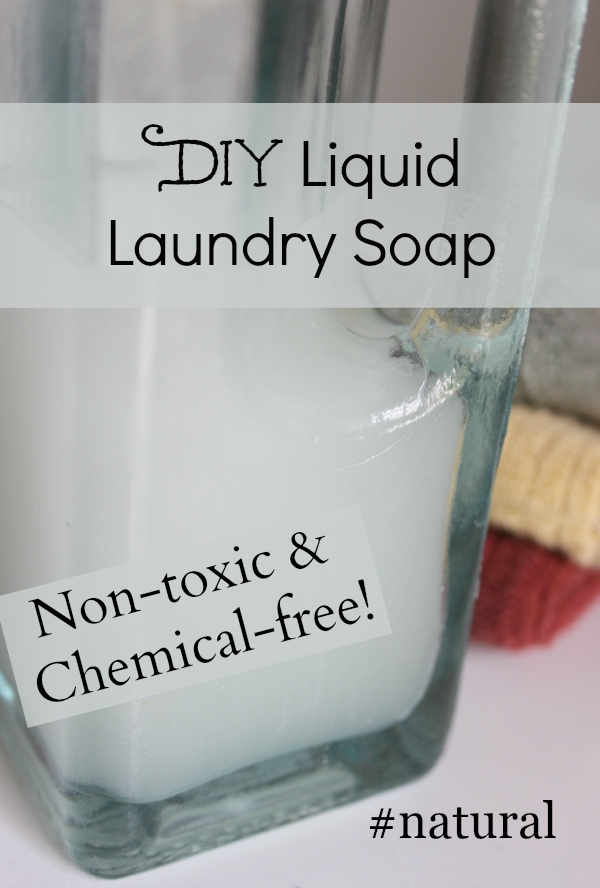 Both the powdered and the liquid recipes call for a natural soap. I  prefer old-fashioned soap made with lard. See Just So's Laundry Soap with EMs. Other suggested brands include Kirk's and Dr. Bronner's.

Andrea Fabry
DIY Liquid Laundry Soap
This liquid soap recipe is suitable for hot, warm, cold and delicate loads of laundry. Safe for HE machines!
Ingredients
1 oz. natural soap (1/4 bar if using 4 oz. bar.)
3 c. boiling water
1/4 c. washing soda
1/4 c. borax
10 c. water *
* Some recipes allow for more dilution. Feel free to add more than 10 c. water.
Instructions
Stir until dissolved.
Pour into a one-gallon container
Add the 10 cups water.
Stir.
Let sit for 24 hours until the mixture thickens to almost a gel.
Use 1/4 cup liquid soap for each load.
*This liquid soap may separate. Simply stir or shake before each use.
https://it-takes-time.com/2014/06/27/diy-liquid-laundry-detergent-recipe/
Did you know you can make your own washing soda? All you need is baking soda and an oven! Check out
DIY Washing Soda.
Concerned about the possible toxicity of borax? See Borax: Friend or Foe?
Regardless of which recipe you choose, you'll love saving time and money with this natural approach to laundry!
Related Posts