Can toxic mold cause type 1 diabetes? While potential triggers vary, research suggests that environment plays a critical role in the onset of autoimmune disease. (See Environment, Not Genes, Dictates Human Immune Variation, Study Finds.)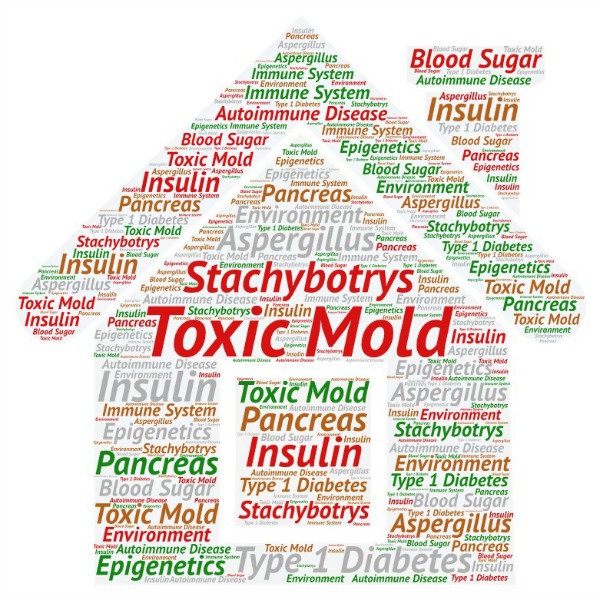 As a mom of a son with type 1 diabetes, I am convinced our encounter with toxic mold contributed to our son Colin's diagnosis. (See Why My Son Got Type 1 Diabetes.)
I have heard from other moms who feel the same way. The following mothers agreed to share their stories.
Type 1 Diabetes and Toxic Mold: Personal Stories
1. Christy's Story
I'm sure it's related, even if not the only contributing factor, because of what toxic mold does to the immune system. Our dog got sick and I got so sick with multiple autoimmune/immune deficiency diseases that I was disabled.
All of these issues started soon after moving into our 100-year-old house.
2. Jennifer's Story
My son was diagnosed when he was 16 months old. This was four months after we had a water leak in our house that was not properly taken care of and turned into mold. I'm a stay-at-home mom, so we were home a lot. There were several other signs that indicated that the mold was negatively affecting his body.
Almost the same time that my son was diagnosed, I developed a benign tumor. I also had unexplained low blood pressure, tachycardia, night terrors, rashes, kidney pain, anxiety, my hands and scalp smelled like mold in the morning, blurry/cloudy vision, vertigo, brain fog, chest pain, hyperventilation syndrome, and more.
The home belongs to my son's father. My son and I moved once I realized how bad mold is. My son's father remediated the house and still lives in it. The mold spores may be gone, but I believe the mycotoxins still remain, because the house still smells, in my opinion.
I was up in arms with trying to figure out what was going on. When I learned more about mold, I knew in my heart that mold was the culprit.
3. Kim's Story
We all had issues after living in that toxic house and surviving on processed foods for years. I had seven miscarriages while living there, for no reason that my OB could find. My daughter has always had terrible sleep patterns, leg aches, tummy troubles. My husband's tremor and ADHD got so much worse. I felt like I was developing fibromyalgia and suffered numerous autoimmune symptoms aside from the miscarriages.
My son, my first, was born in the OP position (occiput posterior fetal position) like your son. (See Why My Son Got Type 1 Diabetes referenced above.) I had the flu vaccine while pregnant—even though I knew the dangers of vaccines from working with children with ASD—because my OB badgered me into getting it. I had the most terrible feeling that entire day. Then, when born preemie, my son was placed on an eight-day course of antibiotics. The poor guy did not have a fighting chance. He was breastfed for 15 months but, in my ignorance, I was eating a highly processed diet—lots of GMO foods, very little real food. As a toddler, he lived with a bag of GMO tortilla chips in his hand. At the time, we thought it was cute.
We were also living in a very moldy old house—the house I had to have, that had so much character, wound up poisoning us. We stayed sick constantly until I started searching out answers after his diagnosis with T1D.
4. Jennifer's Story
My son was diagnosed on his seventh birthday with zero risk factors for type 1. We later found that the home (and very room) he was born in had stachybotrys and aspergillus. Looking back, he was a very croupy baby, with green bile stools requiring block feeding to get him higher-fat milk. He was also very heavy in acne until his fourth month. It makes me wonder if he struggled with blood sugar issues even very early on.
I was first diagnosed with RA and Lyme after living in the house for three years. My other son has struggled with tics and OCD-type symptoms as well as some sensory issues.
I made the connection between type 1 and our home after I met so many people who developed it while living in a moldy home. Of course there's no way to prove a connection, but it's pretty coincidental.
5. Pam's Story
My daughter was diagnosed in December of 2005 at the age of 15 months. This was within a year of living in stachybotrys and penicillium mold. As with any toxin, I believe the toxins emitted from the mold likely compromised her immune system.
While living in the toxic home, a sibling contracted pneumonia and I developed complex partial seizures.
A second daughter later contracted type 1 diabetes, also at 15 months. She was not exposed to the toxic home. I am still trying to connect the dots, but I believe toxic mold, vaccine injury, viruses, food intolerances, and other environmental toxins—all or some of which applied to the genetically predisposed body—played a role in both diagnoses.
6. Jill's Story
My son was diagnosed with type 1 diabetes in 2013 after moving into a home that had a leaky roof and tested positive for molds on the ERMI test.
We experienced the onset of several illnesses—pancreatitis, Bell's palsy, asthma, and a severe cough that was diagnosed as rhinosinusitis.
I came across Andrea Fabry's website. Because we had recently moved to a new home and there was an onset of a variety of illnesses (when our family had previously been relatively healthy), I started doing more research. We eventually all went to visit Dr. Janette Hope, M.D., in Santa Barbara, California, and were all tested positive for tricothecenes in our urine samples.
---
If you believe toxic mold exposure contributed to a loved one's type 1 diabetes, please share your story below. There is a doctor working on a study connecting the two. Let me know if you'd like to know more.
Is mold an issue in your home? Wondering where to begin? See A Beginner's Guide to Toxic Mold.