Conventional shaving creams carry with them a host of chemicals—some of which are being called into question.  Why not try a safer approach? Consider a natural shaving soap and shaving brush!
As you consider a more natural approach to shaving, take a look at this partial list of ingredients for Barbasol, a popular men's shaving cream:
WATER, STEARIC ACID, TRIETHANOLAMINE, ISOBUTANE, LAURETH-23, SODIUM LAURYL SULFATE, PROPANE, FRAGRANCE
The list of ingredients is actually much longer. The word fragrance covers about 14 chemicals (on average).
On the other hand, the use of a shaving brush with chemical-free soap is as natural as it comes!
Natural Shaving Soap and Shaving Brush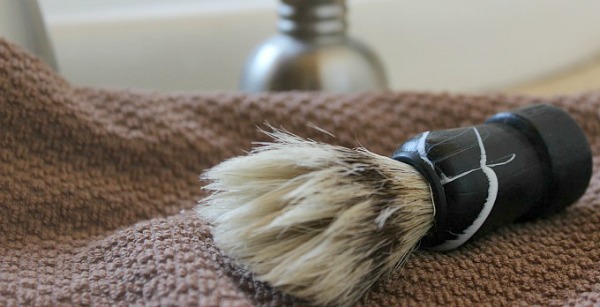 With a natural approach to shaving, you'll not only forgo the harsh chemicals, you'll also enjoy a closer, safer shave. The fibrous bristles of the brush hold more water. The more water, the more moist and rich the lather. The more lather, the less razor skipping and dragging.
The brush also helps release the hair from the shaft, which prevents uneven shaving. For all these reasons and more, it's worth exploring the old-fashioned brush and soap method.
My husband, who has been using this method, says that while it takes a bit of extra time, it's well worth the effort.
How to Shave With a Shaving Brush
1. Moisten bristles and swirl brush on top of hardened soap.
2. When you have enough lather, transfer to your hand and swirl brush again.
3. Keep swirling until you reach desired lather consistency.
4. Apply to face and shave. Rinse, dry, and enjoy the invigorating feel of an old-fashioned shaving experience!
Natural Shaving Soap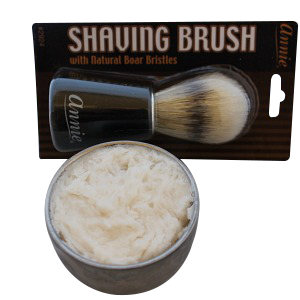 Wondering where to find all-natural shaving soap?
There are numerous options online, including one available at Just So Natural Products.
Just So's Natural Shaving Soap features a combination of lard, coconut oil, castor oil, and calcium bentonite clay.
You'll find the Natural Shaving Soap here.
Natural Shaving Soap Recipe
If you're really adventurous, you can make your own! This is an advanced recipe but well worth the effort for those familiar with soapmaking.
Ingredients
6 ounces lard or tallow
6 ounces stearic acid
4 ounces coconut oil
2.5 ounces castor oil
1 ounce sodium hydroxide (lye1)
2.1 ounces potassium hydroxide (lye 2)
6.3 ounces distilled water
1 tablespoon calcium bentonite clay
Instructions
Measure water.
Measure lye 1 and lye 2.
Pour each lye separately and carefully into water and set aside.
Melt all oils in double boiler.
Carefully pour lye mixture into the oils.
Blend until trace.
Combine clay with a bit of castor oil and stir.
Blend this clay slurry into the soap mixture thoroughly.
Pour into molds, mugs, or jars and allow to cure for 4 weeks.
Alternate method:
Pour into slow cooker and cook for 2-3 hours until soap is neutralized.
Pour into molds, mugs, or jars and use immediately if desired.
https://it-takes-time.com/2016/09/23/natural-shaving-soap-and-shaving-brush/
Related Posts
32

This natural gift will delight any family member or friend! Hand milling soap allows you to enjoy the fun of creating soap without the hassle of working with lye. DIY Hand Milled Christmas Soap [mpprecipe-recipe:62]

30

Every Saturday morning I grab this tote and scour the bathrooms using chemical-free, inexpensive products. I'm free of hazardous vapors and my bathrooms still sparkle! I use this mesh shower tote to allow breathing room, but any tote will work. Here are the products it contains: Baking soda. Keep the…