Air fresheners, in synthetic form, do little to freshen the air and do much to hamper our health. Their primary function of masking odors is accomplished either by deadening our nerves with a toxic chemical or interfering with our sense of smell by coating our nasal passages with an oil film.
Thankfully, there are excellent alternatives that do more than mask odors! In many cases, these options reduce the number of toxins in the air, which results in improved energy, mental stamina, and overall health. One option is to purchase an air purifier (see these product comparisons from Allergy Buyers Club).
Other options include the following five categories of natural air fresheners for the home or office.
1. Odor Eliminators
Baking soda. Neutralizes odors by turning them into inert crystalline salts over time. Keep an open box of baking soda in areas where odor management is desirable. Add several drops of essential oil for added benefit. Or combine 1/2 c. Baking soda and 4 c. Water and simmer on the stove or in a crock pot to help absorb odors. Always check for water evaporation and refill as needed.
Charcoal.

Charcoal's large surface area and highly developed pore structure make it an excellent choice for neutralizing odors.

BuyActivatedCharcoal.com

offers an all-natural charcoal derived from coconut.

Zeolite.

 Zeolite is a microporous mineral encompassing many times its weight in odors or moisture. It is an excellent option for mildew smells. (Check for hidden moisture before treating the odor, as a toxic mold problem may exist.)

Refreshingly Free

offers several zeolite odor-control products.
2. Plants
The purple waffle plant, English ivy, asparagus fern, areca palm, and purple heart are examples of plants that help purify your environment's air. See this article for more. Be sure to avoid mold by tending the plants carefully.
3. Diffuser
Pure essential oils offer numerous health-boosting benefits, including purifying the air. Diffusers offer a way to put essential oils into the air. There are four types of diffusers: nebulizing diffusers, humidifying diffusers, evaporative diffusers, and heat diffusers. Abundant Health offers this informative explanation of each type. Air purifying essential oils include tea tree oil, lemongrass, peppermint, and eucalyptus. Abundant Health and Diffuser World both offer several excellent diffuser options.
4. Deodorizing Spray
With an empty spray bottle, you can easily make your air freshener by adding several drops of your favorite essential oil to 1 c. Distilled water. Add 1-2 tbsp. Plain vodka to help thin out the oil and retain its scent.
5. Potpourri.
The possibilities are endless for this air freshener. Make potpourri using  your favorite herbs, spices, flower petals, and essential oil. Leave in a tightly capped glass jar for several weeks to blend the scents before filling a sachet. Sachets are fantastic under pillows or in drawers.
For simmering potpourri place 1/2 c. of the mixture in 4 c. Water and simmer on your stove for hours of enjoyment. Always check for water evaporation and refill as needed. 8-10 drops of essential oil can be used in place of potpourri. Your favorite combination can also be simmered in a crock pot. Keep the lid off and check for evaporation.
Cranberry Spice Potpourri (Great during the holidays)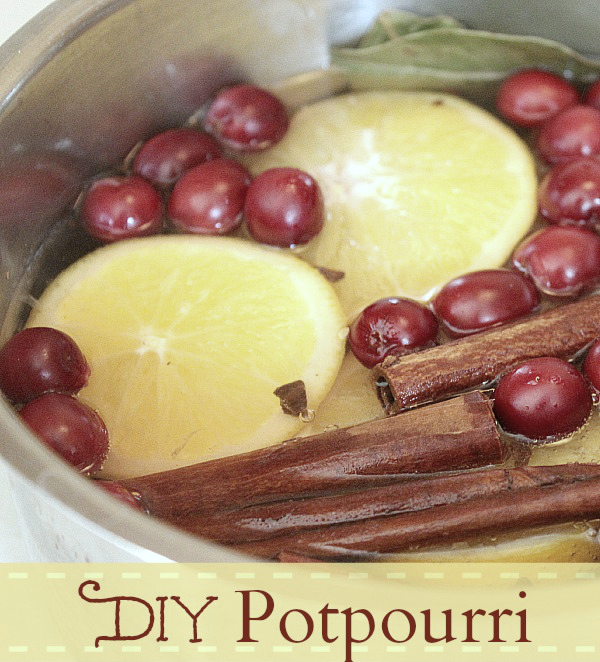 INGREDIENTS
1 orange sliced
2 bay leaves
½ cup cranberries
½ c. whole cloves
6 cinnamon sticks
3 cups water
Combine in a saucepan or small crockpot. Simmer on low setting. Refill water as needed.
After my daughter's wedding, I dried the rose bouquet and made her a beautiful potpourri mix with rose geranium essential oil, vanilla bean, and frankincense tears. She loved the scent and the memories.
What do you do to freshen your air naturally?
Related Posts